Computerspiele als Medien der Sorge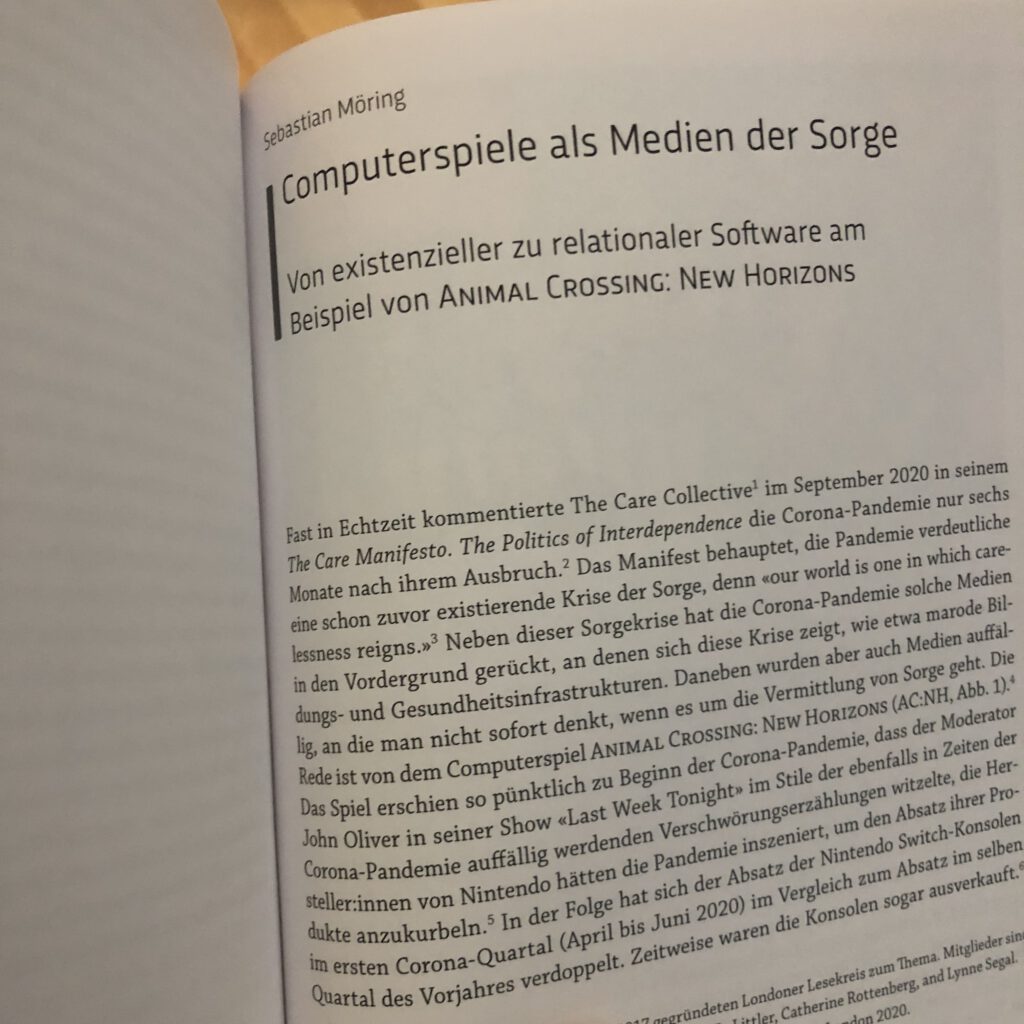 [For English, please see below]
Ich freue mich sehr, dass mein Artikel "Computerspiele als Medien der Sorge. Von existenzieller zu relationaler Software am Beispiel von Animal Crossing: New Horizons" endlich veröffentlicht wurde. Er erschien erfreulicherweise im November 2022 in dem von Bernd Bösel herausgegebenen Sonderheft Automatisierte Zuwendung. Affektive Medien – Sensible Medien – Fürsorgende Medien. In dem Artikel
argumentiere [ich] für eine paradigmatische Unterscheidung zwischen spielinternen existenziellen Sorgestrukturen und externen Sorgeökologien. Spiele mit einer internen existenziellen Sorgestruktur bezeichne ich als existenzielle Software. Als Teil externer Sorgeökologien sind Spiele eingebettet in sozio-technische Gefüge und mit verschiedenen Sorgeakteur*innen verflochten. Existenzielle Software kann, aber muss nicht Teil einer externen Sorgeökologie sein. Wie zu zeigen sein wird, ist AC:NH [Animal Crossing: New Horizons] keine existenzielle Software. Es ist als relationale Software in eine externe Sorgeökologie eingebunden, die ebenfalls existenziell ist.

("Computerspiele als Medien der Sorge", 2022: 113)
Für den Text bietet die Corona-Pandemie einen wesentlichen Kontext und das Spiel der Corona-Pandemie Animal Crossing: New Horizons stellt ein zentrales Beispiel dar.
Die Sonderausgabe
Diese Sonderausgabe gehört zu der Zeitschrift Augenblick – Konstanzer Hefte zur Medienwissenschaft. Die Artikel in dem Heft wurden von Autor*innen aus dem engeren und weiteren Umfeld des Forschungskollegs "Sensing" verfasst. Das Kolleg ist am ZeM – Brandenburgisches Zentrum für Medienwissenschaften beheimatet und wird von der VolkswagenStiftung gefördert.
Obwohl die Ausgabe nicht als sogenanntes Open Access erschienen ist, ist die Ausgabe für eine wissenschaftliche Zeitschrift mit 12,90 € doch recht erschwinglich.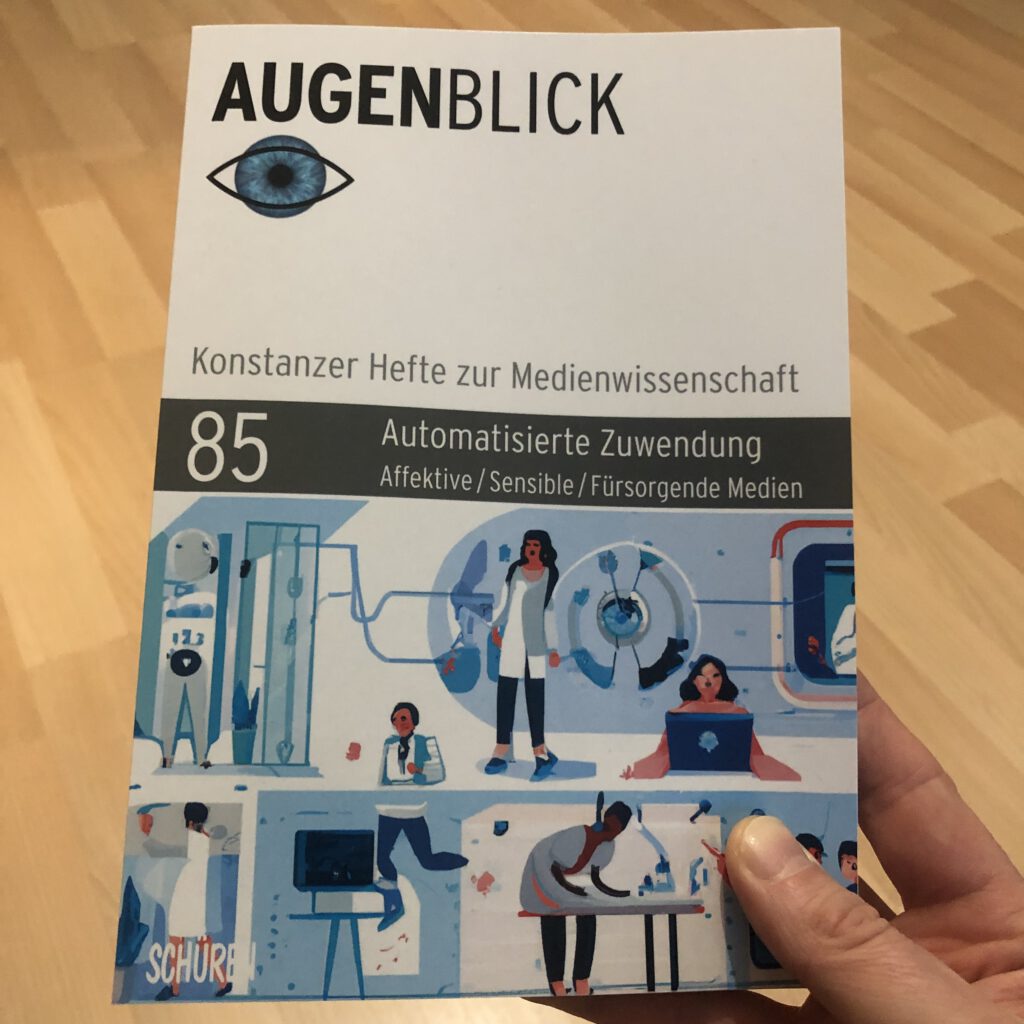 [English Version]
Computer Games as Media of Care
I am very pleased that my article "Computer Games as Media of Care. From existential to relational software using the example of Animal Crossing: New Horizons" has finally been published. It appeared in November 2022 in the special issue edited by Bernd Bösel Automatisierte Zuwendung. Affective Media – Sensitive Media – Caring Media. In the article
[I] argue for a paradigmatic distinction between game-internal existential care structures and external care ecologies. I refer to games with an internal existential care structure as existential software. As part of external care ecologies, games are embedded in socio-technical structures and intertwined with various care actors. Existential software may or may not be part of an external care ecology. As will be shown, AC:NH [Animal Crossing: New Horizons] is not existential software. It is involved as relational software in an external ecology of care that is also existential.

("Computer Games as Media of Care," 2022: 113)
For this article, the Corona pandemic provides an essential context, and the Corona pandemic game Animal Crossing: New Horizons provides a central example. The Text is in German.
The special issue
This special issue belongs to the journal Augenblick – Konstanzer Hefte zur Medienwissenschaft. The articles in the issue were written by authors from the immediate and wider environment of the research group "Sensing". The research group is located at the ZeM – Brandenburg Center for Media Studies and is funded by the Volkswagen Foundation.
Although the issue is not open access, the price of 12,90 € is quite affordable for a scientific journal.