Neoliberale Bedingung von Computerspielen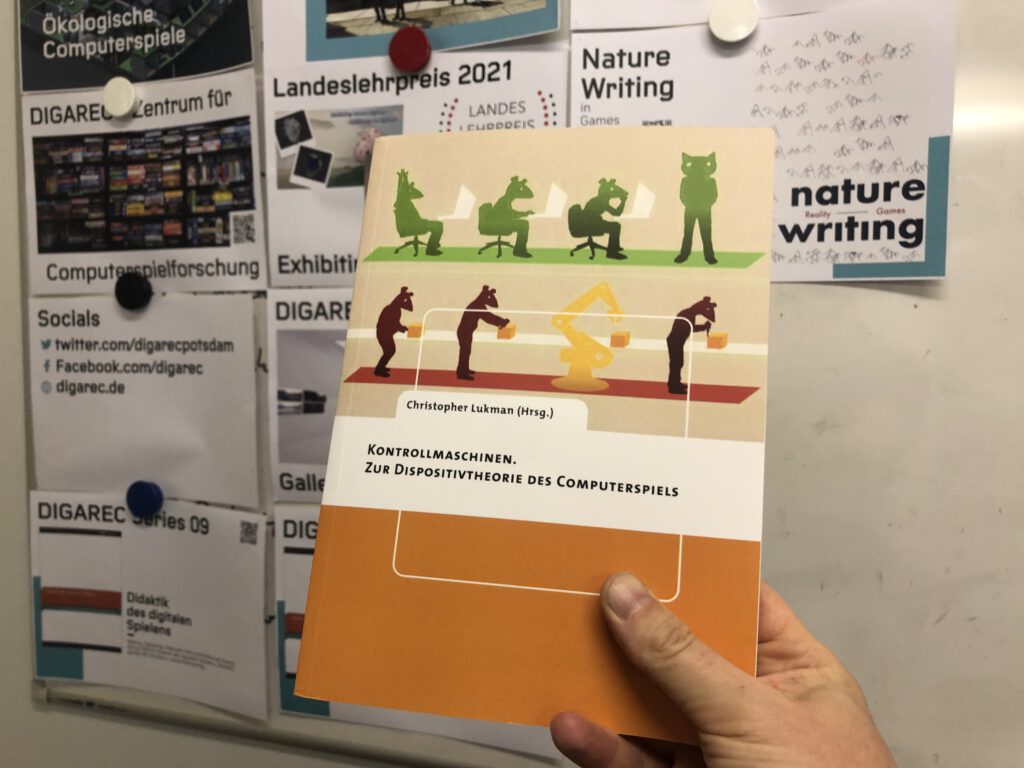 Wir freuen uns sehr, dass unser Buchkapitel "Die neoliberale Bedingung von Computerspielen" von Olli Tapio Leino und mir im Band Kontrollmaschinen (hrsg. von Christopher Lukman) im Lit Verlag erschienen ist. Das Kapitel behauptet, liberale romantische Spieletheorien à la Schiller reichen im neoliberalen Zeitalter nicht mehr aus, um Computerspiele angemessen zu beschreiben. Stattdessen müssen die neoliberalen Aspekte des Spielens anerkannt werden. An Free-to-Play-Games wie Pocket Planes zeigen wir, dass man diese Aspekte verschleiert, wenn man Computerspiele wie klassische Spiele behandelt.
Der Beitrag ist eine angepasste deutsche Übersetzung unseres Zeitschriftenartikels "Beyond Games as Political Education – Neo-Liberalism in the Contemporary Computer Game Form" der 2016 im Journal of Gaming & Virtual Worlds erschien (https://doi.org/10.1386/jgvw.8.2.145_1). Übersetzt hat ihn Lisa Andergassen (Blank Slate).
Die weiteren Beiträge sind von fantastischen Autor*innen der internationalen und deutschsprachigen Game Studies, wie man dem Inhaltsverzeichnis entnehmen kann:
Christopher Lukman: Kontrollmaschinen. Eine Einleitung.
Paolo Pedercini: Computerspiele und der Geist des Kapitalismus.
Sebastian Möring/Olli Tapio Leino: Die neoliberale Bedingung von Computerspielen.
Rolf F. Nohr: Mit Will Wright Rationalitätsordnungen sichtbar machen. Zur Analyse eines Dispositivs der Gamifikation.
Stefan Höltgen: Game Science. Vorüberlegungen zu einer (medien)wissenschaftlichen Computerspielarchäologie.
Felix Raczkowski: Mit der Bürokratie spielt man nicht! – Paradigmen digitaler Kontrolle.
Theresa Krampe: Von Kontrollräumen und panoptischen Sichtverhältnissen. Das Panopticon als wiederkehrendes Motiv im zeitgenössischen Computerspiel.
Martin Hennig: Die Apparatur überwinden. Zur Repräsentation von KI in digitalen Spielen.
Sonia Fizek: Operatives Ambient. Zur ästhetischen Wirkung von Hintergrundoperationen
in Computerspielen.
Hier folgt noch die bibliografische Angabe unseres Beitrags:
Möring, Sebastian und Olli Tapio Leino. 2022. Die neoliberale Bedingung von Computerspielen. In: Kontrollmaschinen. Zur Dispositivtheorie des Computerspiels, hg. von Christopher Lukman, 41–61. Münster, Hamburg, Berlin, London: Lit Verlag.
Weitere meiner Publikationen finden sich hier: https://sebastianmoering.com/publications/.